Is There Anything Lavonte David Cannot Do?
December 4th, 2012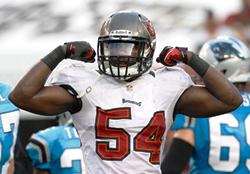 Joe has no doubt that in the coming years, Mark Barron will be a force at safety. He already is a bone-crushing tackler, just as RGIII.
And Bucs fans, and the NFL in general, go into a tizzy when "The Muscle Hamster," Doug Martin, gets on his wheel.
Right now, however, Joe's of the mind that the Bucs' best rookie was the team's second round draft pick, Lavonte David. We all know how David is a monster at tackles for a loss. We all know how David is a sideline-to-sideline warrior. Sunday, he showed he can pick off a pass, too.
But the numbers crunchers at ProFootballFocus.com suggest Sunday, David showed he may be the Bucs' best pass rusher, claims Cole Schultz.
What's the Rush?

Keeping two safeties deep whenever the Broncos weren't in the red zone, Tampa forced Peyton Manning to beat them without many opportunities for the deep ball. And though they were successful in that regard (Manning attempted two passes over 20 yards in the air), the result was a short but methodical passing attack that left the Bucs' defensive line little time to apply any pressure. Over half of Tampa Bay's QB disruptions came from rookie Lavonte David (four hurries), but two of those occurred when he was unblocked. Neither Michael Bennett (-2.8 pass rush) nor Gerald McCoy (-1.3 pass rush) helped out the secondary as they generated one hurry apiece. A disappointing return considering their capabilities.
Now remember folks, David is going wilding each Sunday afternoon as a rookie — a rookie! Imagine what this guy will be able to do in the next few years when he has a better read on what NFL offenses are showing?
What a steal this David has turned out to be. Joe's just glad he was the first media type in the Tampa Bay area to point him out to Bucs fans.