"If You're Not Sick, Then There's A Problem"
December 12th, 2012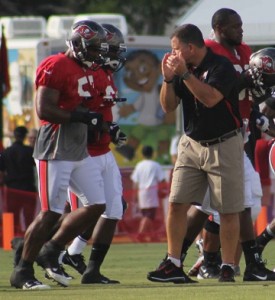 The leader of the New Schiano Order was exceptionally fired up during the 30-minute window given to media to watch the beginning of practice today.
Bucs beat reporter Tom Krasniqi, of WDAE-AM 620, Twittered out the news.
@TKras – Greg Schiano gathered the entire team around and delivered a pep talk before #Bucs practice, saying "If you wanna be elite, work elite" … Schiano to his team: "Let's focus on our job today, nothing else…100% focus" … The first portion of practice was spirited and Schiano was hands-on, going from group to group, barking orders. He's intense today
Joe's not surprised Schiano is bringing extra juice. His team's on a three-game losing streak and just came out slow for the first time this season.
Joe's really looking to see how the Bucs respond Sunday. They desperately need to avoid a complete December collapse that has plagued the team two of the past four years.
Schiano said after practice he expects his players to be as disgusted as he is and ready to dig in — perhaps harder than ever — to right the subpar play of last Sunday.
"If you're not sick, then there's a problem," Schiano said, referring to what should be the mentality of all Buccaneers.