"Dallas Lost It In The Lights"
December 20th, 2012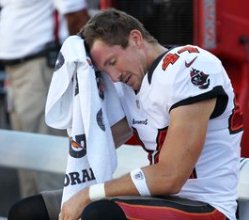 So what really happened with Josh Freeman's third interception Sunday in New Orleans?
"Dallas lost it in the lights," Freeman said tonight on his radio show on WDAE-AM 620.
Freeman called the high-altitude deep ball to Dallas Clark "an opportunity ball" that absolutely was intended for Clark to go up and make a play. But Freeman explained Clark told him he lost the ball early and never found it before Isa Abdul-Quddus picked it off.  
Freeman went on to say it was an "everything-that-could-go-wrong" day and his confidence is not shaken in the slightest.
Stuff happens, but Joe's confident a jump ball to Clark is not a wise idea even if he can see it.