Chucky Talks To Joe
December 11th, 2012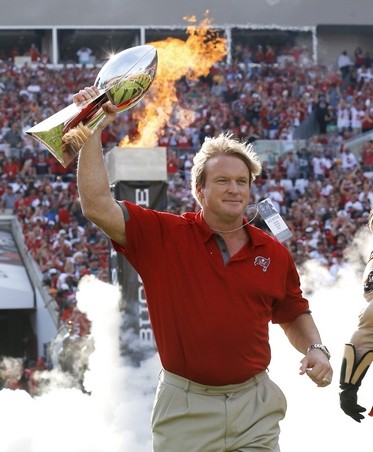 As just about every sane Bucs fan knows, Sunday was the reunion celebrating the 10-year anniversary of the Bucs winning their (thus far) lone Super Bowl, a treasured, historic moment in not just franchise history, but in the annals of Tampa Bay history.
Just before the 2002 Bucs were to take the field at halftime to be honored by fans, Joe was humbled to have a brief moment with Chucky, the man who brought the Vince Lombardi Trophy to Tampa Bay.
Joe thought it was cool that the current Bucs are very much in the forefront of Chucky's mind and that Chucky even asked/told the fans, when he spoke at halftime, if locals support the Bucs now like they did 10 years ago, equally good fortunes will follow.
"We are very appreciative of the Glazers for making this happen. This is a great day in Tampa. For all former Buccaneers, all the current Buccaneers and the future Buccaneers, it is really exciting to be together again and give some incentive to this team and teams that follow.

"I am aware of what they are doing and Coach Schiano has a great program. I'm a big fan and supporter of him.

"I see a lot of these guys here from time to time; I stay in touch with a lot of them. To get them all back together and reunite is a great thing. Hopefully we take advantage of modern technology, e-mails and text messages and keep an eye on one another like we did 10 years ago."
One last thing for Joe to get off his chest: When Chucky was introduced at halftime carrying the same Lombardi Trophy he hoisted aloft in San Diego nearly 10 years ago, Joe heard boos. That was shameful and for those who did boo Chucky, you would have been better off staying at home.
Sure, Chucky's final days with the Bucs weren't idyllic, and he had rubbed a lot of people the wrong way. That, to Joe, is now water under the bridge. The man brought home long-awaited hardware for this franchise and this community, for goodness sakes!
For that feat, Joe still believes there should be a street in the Tampa Bay area named for him.