Butch Davis Staying Put (For Now)
December 31st, 2012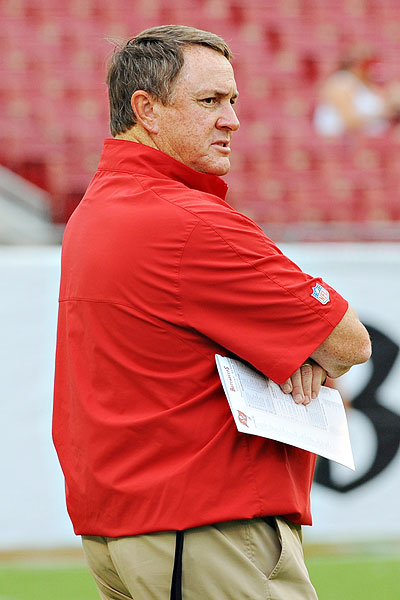 Butch Davis, the special assistant/consiliere/psychic to Bucs coach Greg Schiano, is not leaving the Bucs for Florida International.
There had been many rumors of late that Davis was linked to the opening at FIU after the school parted ways with Mario Cristobal. Davis' agent, Jon Sasser, Twittered Joe over the weekend to refute a FoxSports.com report that Davis' settlement with the University of North Carolina, his previous employer, was an obstacle for him to take the FIU gig.
Sasser also reached out to Woody Cummings of the Tampa Tribune to offer the same information.
Below is what Sasser — unsolicited — Twittered Joe, and Sasser encouraged Joe to use this message as a direct quote from him.
[email protected]: Butch Davis did not even sign a settlement with UNC upon his 2011 dismissal. … UNC's obligations to Butch Davis are governed by the contract in time at his termination.
In other words, Davis is just abiding by his contract with North Carolina and not coaching for the time being.
So Schiano gets to keep his consiliere, which isn't a bad thing.