Who Is Danny Gorrer?
November 28th, 2012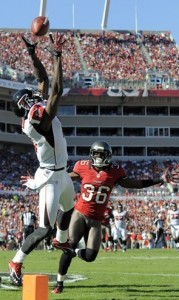 Now a member of the Bucs' top quartet of cornerbacks for the 2012 homestretch, Danny Gorrer is a guy most Bucs fans never heard of until last Sunday against Atlanta. Gorrer saw a lot of playing time in nickel situations and Roddy White shoved him off the line on a slant route/catch to all but seal the Falcons' victory. Gorrer is an undrafted third-year player out of Texas A&M, who spent 2010 with the Rams, played in 11 games for the Ravens last year, and was cut this season in October by the Seahawks before signing with the Bucs. Joe hit him up with a few questions this week.
JoeBucsFan.com: Did you have any connections with the Bucs before you got here? Is there any story behind you coming here?
Danny Gorrer: Not at all. I think they saw me play before and liked what I done in the past and gave me an opportunity.
JoeBucsFan.com: You've been with a few teams. Greg Schiano talks a lot about how hard this team works. What are your impressions of the work ethic here versus what you've seen at your other stops?
Gorrer: Coming from Baltimore and coming from Seattle, I feel like every team I've been on worked hard. And when I got here I felt like I fit right in with the guys because everybody on the team works hard, and everybody's got one goal in mind, and that's to get better every day. I feel like I fit in.
JoeBucsFan.com: That play when you were covering Roddy White on the third-down slant, there's not much you can do there. What happened there?
Gorrer: Yeah, there's not much you can do, but I feel like I watched film on that play, and I'll see what I can do better. I'm kind of upset about the play with Roddy. There's always something you can do to get better.
JoeBucsFan.com: Anything unique you can tell fans about yourself? What should people know about you? Maybe something about your history in the NFL and something in your personal life?
Gorrer: Something about me, when you see me out there you're going to see me going 100 percent. You're going to get the best of Danny Gorrer every time I go out there. Fans will see me getting better every week.