Quincy Black Had His Best Game
November 15th, 2012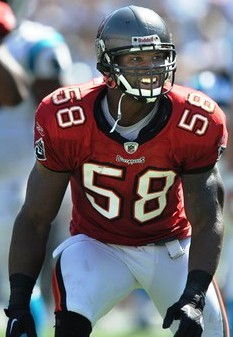 Yes, Bucs linebacker Quincy Black is gone for the season. The maligned outside linebacker's improved play is one reason why the Bucs' rush defense has gone from the absolute worst to the best in the league in less than a year.
Black won't see the field again for the Bucs in 2012, as he perhaps has major nerve damage. The extent will not be known until a battery of additional tests are completed in a few weeks.
Bucs coach Greg Schiano discussed Black's condition and future at length yesterday at One Buc Palace.
"He's down as you can imagine, he is a professional. I have visited with him every day and he knows what is in front of him now, he knows he has to get better and get well and get him back there.

"The wait-and-see was to get more information. As it turns out, we will wait two or three more weeks to do another test because they say with the swelling, you can't see what you need to see. What Quincy has is not a normal thing; you have to see a specialist for what he has. Our doctors have been awesome, on the phone all over the world talking to people, finding out what is the best course of action and that's when we learned about the two or three weeks [to wait] after talking with all those doctors, they told us, it is not even a consideration [to play] for this year.

"I know [Bucs cornerback E.J.] Biggers had something similar, I'm not a doctor but it sounds similar. They are not even sure what is going to happen yet. Probably in a few weeks we will know better what the timeline is. We are all confident he will be back. The shame of it is, he played his best game all year Sunday. [Linebackers coach Bob] Fraser, had to pick him up a little because [Black] finally played the way we knew he could play. But we will get him back and get him working.
That's a shame. Black had played pretty well in Joe's eyes this year, and if he played his best game last week against the Chargers, man, that linebacking corps could have been something the rest of the season.
Joe clearly hopes Black has a speedy and uneventful recovery.