Passing Game Opens Up Run Game For Martin
November 4th, 2012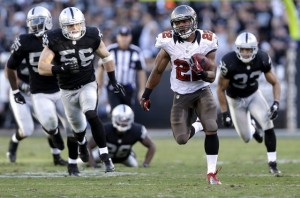 Now Joe was always of the mind that a solid running game opens up a passing game.
This came true for the Bucs two years ago when LeGarrette Blount was wilding against defenses and all of a sudden, Bucs quarterback Josh Freeman blew up.
So Joe was of the mind that the past three weeks when Doug Martin began running so much better, the passing game followed.
But to hear Bucs offensive lineman Jeremy Zuttah talk on the Bucs radio network, it is the Bucs passing game that has allowed Martin to begin to run wild on defenses.
"We have two tremendous weapons on the outside [in Vincent Jackson and Mike Williams] so it keeps a seven-man box and allows us to do what we do," Zuttah said.
Very interesting but it makes sense. Defenses are not going to put eight men (or more) in the box because Jackson and Williams will torch defenses one-on-one.
Zuttah, who started at left guard last year but started 2012 at center, moved back to left guard to replace injured Carl Nicks for a laudable goal.
"Coach just told us this is the best chance for us to win," Zuttah said. "We just have to keep getting better and pick it up for the guys who aren't here."
Zuttah just raved about the play of Martin.
"Dang, you just give him a little daylight and he can find the crease, it's amazing," Zuttah said. "He's so much fun to watch."
As far as being in a wild card race with a 4-4 record at the halfway point of the season, Zuttah said the team can still grow.
"We are a team that is learning how to win together so we will keep at it."