Mason Foster And "The Nature Boy Strut"
November 24th, 2012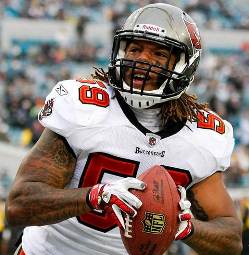 Two weeks ago when the Bucs beat the Chargers, Mason Foster got a key tackle for a loss and did a celebration afterwards.
On Twitter, Joe wrote that Foster was doing a Clay Matthews dance and a number of Joe's followers were outraged, claiming Foster was pulling off a Ric Flair move.
Joe later learned from a media relations staffer that it was indeed a move to honor Flair, better known as "The Nature Boy," as Foster is a huge Flair fan.
So this week, Joe asked Foster about Flair. Foster made no secrets how Flair is his favorite wrestler.
"I am a big wrestling fan myself, I mean the classic wrestlers," Foster said. "And [Flair] is my favorite old school wrestler.

"I was actually at home once watching an old wresting match on Nexflix and [Flair's] movie popped up. I think after football, that is my next profession."
Foster late told Joe that, yes, his celebration against the Chargers was his salute to Flair.
"Yeah, that was my tribute to Ric Flair, the "Nature Boy Strut."
As a public service, here's a clip of Flair in his prime.