Lavonte David Among NFL Elite
November 14th, 2012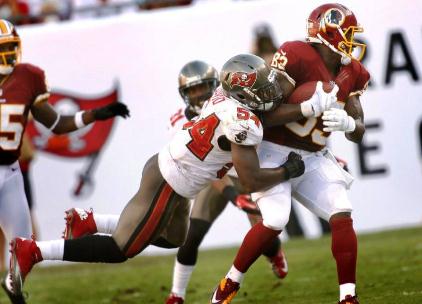 In football, like in baseball, stats can be deceiving. One such stat in football is tackle assists. Shoot, even Joe could get an assist just by piling on top of a mound of players on the ground.
Now getting a solo tackle, which often means getting a tackle in the open field, is another ball of wax. Those tackles are very much legitimate and take a great deal of skill and effort to rack up.
That's why Joe is of the mind Lavonte David should be a Pro Bowl linebacker this year. If one is to monitor just solo tackles, not total tackles, David, the Bucs rookie outside linebacker, has the second-most solo tackles in the NFL. He is one behind James Laurinaitis of the Rams; Laurinaitis has 68, David 67.
(Cool trivia: Of the eight linebackers listed with the five-most solo tackles, four are from the Big Ten, none from the SEC. GASP!)
David is just one of many examples of how this Bucs franchise has turned around under Greg Schiano and how Bucs rock star general manager Mark Dominik actually knows how to draft players. Dominik only needed a coach to develop talent.