Is Doug Martin The Best In The NFL?
November 17th, 2012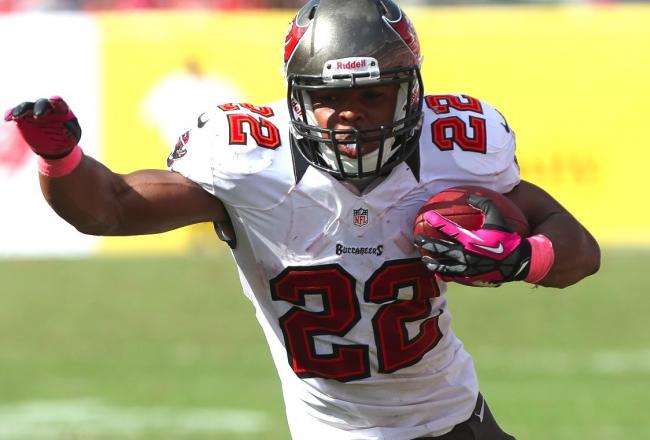 The way Bucs running back Doug Martin has burst onto the scene in recent weeks has Bucs fans giddy with excitement, not just the present but what the future holds for the Bucs' running game.
Bucs fans are so happy with Martin, they are launching a futile effort, trying to label Martin with gloss other than the outstanding moniker Martin carried with him from college, "The Muscle Hamster."
(Doug, embrace it, man. It has caught the nation. You can make loads of cash off this. Imagine the gear you could sell. Hamster T-shirts, hamster headgear, hamster coolies, hamster figurines. The list is endless.)
Joe isn't quite ready to label Martin the best in the NFL, but he's damned close. Of course, Adrian Peterson lead the NFL in rushing and Martin is fifth.
This does not matter to former Bucs stud, all-around good guy and fan favorite Earnest Graham. The former Bucs all-purpose running back took to Twitter and proclaimed Martin to be the NFL's best.
@EarnestGraham: There is one RB in the league that is in better shape than Adrian Peterson…..That is Doug Martin. His conditioning is second to none.
This is interesting to Joe, the conditioning. Now, Peterson is famous for his conditioning but if the Bucs are going to make a run at the postseason, they will need Martin at full speed.
Sooner or later, Martin (and Lavonte David and Mark Barron) are going to hit that rookie wall. Even Bucs coach Greg Schiano has mentioned he is monitoring Martin for this as this is the time of the year the wall hits.
Schiano said part of being able to deal with that wall is conditioning. If, what Graham writes, is true about Martin, it will go a long way to help Martin manage both the mental and physical fatigue that comes along with that nasty wall.