Eric Wright And His Trail Of Trouble
November 1st, 2012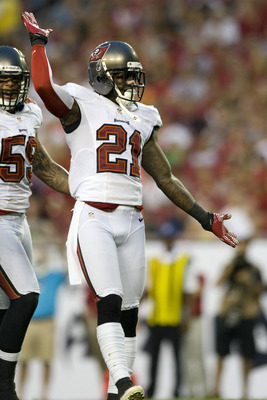 The Bucs have the unflattering notoriety of having their starting two cornerbacks, Aqib Talib and Eric Wright, in trouble with Adderall, a banned substance in NFL circles.
While Talib admitted he tested positive for Adderall, Wright has not been as forthcoming. FOX NFL insider Jay Glazer reported Sunday that Wright, too, tested positive for Adderall. Wright, not surprisingly, has been quiet and kept at arm's length from probing reporters. And while Bucs officials are under the cloak of player confidentiality and deflect drug-related questions about Wright, not one Bucs official or NFL spokesman has denied Glazer's report.
Alan Dell absorbs all of this information and is seething. The Bradenton Herald columnist documents Wright's troubled past with felony charges, alleged pill possessions and indirect links between Wright's former teammates and their brushes with Adderall as well.
Dell wonders aloud why Talib is crucified by Bucs fans while Wright is seemingly given a pass.
It seemed everybody wanted to run Talib out of town when he was recently suspended for taking Adderall, a substance the NFL bans, citing it as a performance-enhancing drug. For a player to take it, he must get a doctor's prescription and then a waiver from the league.

Talib got neither.

He is not known for making wise decisions and to keep him out of trouble, you want to surround him with people who will look out for his best interests, which brings us back to Wright.
Dell goes on to write that Wright is a quesitonable influence around the young Bucs roster.
It is an interesting theory of Dell's. One could argue that Wright's past makes Talib's indiscretions pale by comparison. Many of Talib's steps over the line just weren't smart moves.
Wright's brushes with the law seem a bit more sinister.
As to why Bucs fans may be giving Wright a pass, Wright has only been around the Tampa Bay area a few months. Sure, there was the California collision this summer, with charges dropped, so the positive test for Adderall (allegedly) is his first offense as a Bucs player.
Talib averages an annual indiscretion.
In short, Dell's piece is worth reading.