Ahmad Black Must Make Smarter Choices
November 7th, 2012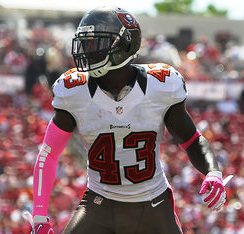 When safety Ahmad Black was coming out of the University of Florida, he thought he had the talent to be a first-day draft pick. He was not. Black slipped to the Bucs in the fifth round, largely because many teams believed he was a step too slow and perhaps not big enough to succeed in the NFL.
Black still harbors bitterness about this. Just days ago, Black took to Twitter to mock those who didn't draft him earlier.
@ahmadblack35: Too small and too slow to play in the NFL right? Lol yea ok
Not to sound arrogant — and Black is not, he's a good guy who Joe has gotten to know since he was drafted — Black also posted the following on Twitter.
[email protected]: Blessed and thankful for everything….never forget to thank the man above for all your blessings!!
Interestingly, per a police report obtained by Stephen Holder of the Tampa Bay Times, the aforementioned Twitter postings by Black occurred after Black was pulled over for weaving in the small hours of the morning of Oct. 30 and confessed to police he had been smoking pot.
Now Black seems to be a smart guy from his dealings with Joe and, as Black likes to point out, sometimes a football player's best assets cannot be determined at a glorified indoor track practice in Indianapolis in the dead of winter. There is a thing called "football smarts," which often mean the difference between making an NFL team and bartending.
But given the date Black was pulled over and allegedly confessed to police he smoked pot, Black had to know about recent Bucs history concerning controlled substances from Tanard Jackson (who threw away millions of dollars if not a career because he couldn't put the bong down) to  the Adderall troubles of Aqib Talib and Eric Wright.
Black also had to know his team is woefully thin at cornerback, so thin that it's a potential option that Black himself could start at safety if Ronde Barber is moved back to corner.
Look, Ahmad, you have the rest of your life to ingest whatever you want with no ramifications other than those in your personal life. However, you have a whole locker room of teammates that need you right now, need you dependable and on the field of play.
Black has now landed in the crosshairs of NFL warden commissioner Roger Goodell who may or may not fine or suspend him. In football vernacular, Black is now a target.
Joe thinks it is great that Black is using his bitterness over not behind drafted higher to motivate himself to be a productive NFL player. Sadly, he can't be counted on if he is going to be getting smoked up enough to be a road hazard and get pulled over by the long arm of the law.
In Joe's eyes, Black just has to be smarter than this. Look, Joe doesn't care what one does on his or her own time so long as it does not encroach on Joe's liberties or finances. More importantly, when a player does something off the field that could jeopardize his team's on-field play, that's when Joe gets angry.
This just depresses Joe. Black is smarter than this. Or so Joe thought.