A Secret Superstar
November 16th, 2012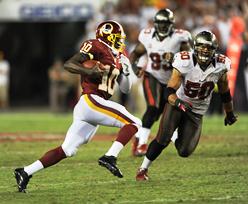 While the (physical) hits keep on coming, the Bucs somehow, someway find ways to plug the holes.
Much has been written about the offensive line, with only Donald Penn remaining in his original spot due to the line being decimated by injuries. And it may get worse with Jamon Meredith's bum left ankle.
But not a whole lot has been written about the defensive line. Adrian Clayborn was lost earlier in the season with a blown knee and Da'Quan Bowers has had to rally from his Achilles tear as a result. Fellow defensive end Michael Bennett has had to battle through injuries himself.
This created an opportunity for Daniel Te'o-Nesheim to step in, and of late, he has handled himself quite well on the field. So much so that the football thinktank of ProFootballFocus.com awarded Te'o-Nesheim as an unsung hero.
Against the run he had a Run Stop Percentage of 9.5%, with two of his three solo tackles resulting in defensive stops. That paled in comparison to the damage he did as a pass rusher, however. With all 34 of his pass rushes coming from the right, Te'o-Nesheim registered a sack and seven hurries on Chargers quarterback Philip Rivers. That gave him a Pass Rushing Productivity Rating of 18.4, the second-highest among 4-3 defensive ends in Week 10. His lone sack of the game came on 1st-and-10 with 3:53 left in the game, with the Buccaneers leading by 7. Beating left tackle Michael Harris to the inside, he was able to get to Rivers quickly and record the sack for a loss of 10 yards.
Now Joe has never played in the NFL much less coached in it. The closest Joe has sniffed the NFL was being coached in high school by a guy who just retired from the NFL, and Joe to this day is blown away by how much his old coach knew about football (his football bloodlines traced through John Madden, Tom Landry, Gene Stallings and indirectly, Bear Bryant).
Given that so many Bucs have come out of obscurity to fill holes caused be injuries and played well tells Joe that these guys are simply coached up. Albeit from a very different level of football, Joe has experienced this first-hand.
How many teams have had this many guys fill in for injured starters, and yet there has been little to no dropoff of play? That tells Joe the reserves (as well as the starters) are getting coached up big time.
How refreshing is that?