The State Of Arrelious Benn
October 2nd, 2012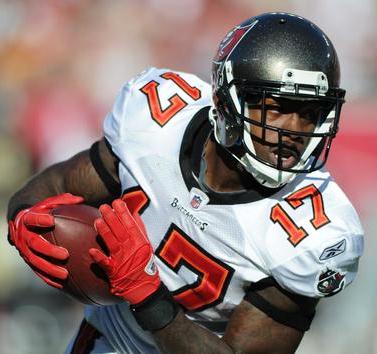 The infamous Benn'd around play, exhibit A why Greg Olson was horrendous in 2011, returned Sunday against the Redskins.
While Arrelious Benn worked hard to gain five yards, let Joe be very clear that Joe loathes the playcall and considers it cruel and unusual punishment to Bucs fans. After its brutal results last season, Joe believes the Benn'd around should be banished for at least 10 years.
But that brings Joe to Benn and his role on the 2012 Bucs. Benn was a high second-round pick in the deepest draft in modern times back in 2010. Rockstar general manager Mark Dominik even traded away a fifth-round pick to move up and snatch him, but Benn has nowhere near fulfilled his promise.
Bucs offensive coordinators have not found a way incorporate him consistently. Or, there's the possibility that Benn isn't that good.
The move to Benn as a kick returner this season has him ranked as the 17th best returner in the NFL among players with five or more returns this season.
Benn is a strong cover guy on special teams, but that's not why he was drafted.
Joe's not sure what the new regime is going to do with Benn going forward. Somehow, though, they should give him shots to see if he can live up to his draft position.