The Magical Powers Of Doug Martin
October 28th, 2012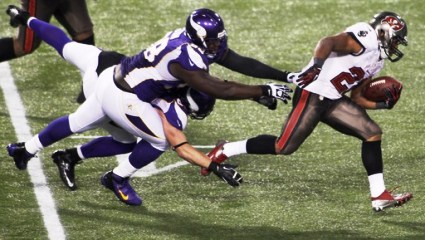 Not since LeGarrette Blount was tearing through and jumping over defenders in 2010 did Joe get as excited about the Bucs run game than he did Thursday night watching Doug Martin make the Vikings look like a local high school team.
Then Josh Freeman opened it up and it was all a wonderful offense.
But to read the words of NFL.com's Jeff Darlington (he graduated from Seminole High School, by the way), there was a paranormal property that seemed to appear whenever Martin ran the ball.
@JeffDarlington: Each time Doug Martin touches the ball tonight, it looks like there's just a giant magnet attached to the goal post pulling him toward it.
Martin was sensational Thursday night and so was the Bucs offense. When a team can run the ball with authority, everything — and Joe means everything — will open up.
In the immortal words of Moe Howard, a good running game is essential. "It's football, chump."