Pushing Ronde Barber For Hall Of Fame
October 21st, 2012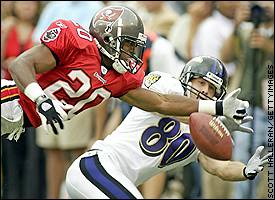 Bucs fans know Ronde Barber should someday be in the Pro Football Hall of Fame. The career numbers he has racked up, and continues to rack up as a safety, are impressive.
Sadly, there is a major logjam of cornerbacks waiting to get to the Hall of Fame. That doesn't help Barber's case.
How impressive has Barber been? Even the ESPN types are turning heads. Consider Adam Schefter, who now has jumped on the bandwagon of Barber to the Hall of Fame.
3. Ronde's résumé: As running back Tiki Barber racked up Pro Bowl appearances and enough yards to become the Giants' all-time rushing leader, few would have thought twin brother Ronde would have the more distinguished NFL career. But into his 16th season, all with the Buccaneers, cornerback Ronde Barber is the one who has stood out as much for his ability as his durability. His interception return for a touchdown last Sunday was the 12th defensive touchdown of his career, tying Aeneas Williams and Charles Woodson and trailing Rod Woodson and Darren Sharper by one for the most in NFL history. Barber's next start Sunday against New Orleans will be his 222nd, passing former linebacker Derrick Brooks for the most in Buccaneers history. Barber has more consecutive starts than any other cornerback in NFL history, more sacks than any other cornerback in NFL history and more interceptions than any other Buccaneer in history. As the interceptions, touchdowns, starts and records keep piling up, Barber's case for a spot in Canton continues to be bolstered. It was hard to imagine that the Barber most likely to wind up in the Pro Football Hall of Fame would be Ronde. But all these years later, no one can argue.
But still there are jugheads who argue. How many times have your heard scribes claim Barber is a "system cornerback?" That's one of the weakest sauce arguments Joe has ever heard.
So what if he was a system player, which Joe doesn't buy, how did he do in the system he played? One could argue Joe Montana — who Joe worshiped — was a system quarterback. Would Montana have put up the numbers he did if he played for the Bills or the Saints and not for Bill Walsh in the original west coast offense?
Would Lawrence Taylor had been the complete terror he was if he had played in a 4-3 defense and not an outside linebacker in a 3-4 defense?
This "system" argument is pure nonsense, through and through.
If Barber doesn't get into the Hall of Fame because of a logjam, well, OK. That happens. But if Barber doesn't get in because voters have the notion he was a system cornerback, then that will be an absolute travesty.