Front Line Already Misses Adrian Clayborn
October 24th, 2012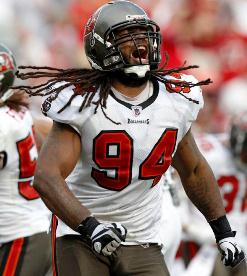 Joe knew it was just a matter of time that the Bucs would miss electric right defensive end Adrian Clayborn — who Joe saw limping around in the Bucs locker room this week.
Clayborn brought heat off the edge and could punish quarterbacks, like the time he nearly tore Matty Ice in half last year.
So when Clayborn went down with an ugly knee injury, Joe feared it would really hurt the Bucs.
Already, the Bucs can feel his void. That's what Gerald McCoy told Joe yesterday when discussing all things defensive line. Joe asked him if he can tell opponents have changed their blocking schemes knowing they don't have to worry about Clayborn racing around their left side.
"Yeah, yeah, the doubles are coming," GMC said. Though he was almost embarrassed to admit it, he said he and fellow defensive tackle Roy Miller are seeing more double-teamed coverage as offenses don't have to worry about Clayborn. "I'm not the first person to get doubled on this team. I'm just working hard to be able to get some one-on-ones and utilize my talents. One one-on-ones, I haven't gotten that many [of late] but I have to work my best."
That's the task of Bucs defensive coaches now: They have to devise schemes up front in order to help GMC and Michael Bennett from getting double-teamed and lost in the wash.
That happened less with Clayborn giving left tackles fits.