Field Goal Defense Debacle On Coaching Staff
October 21st, 2012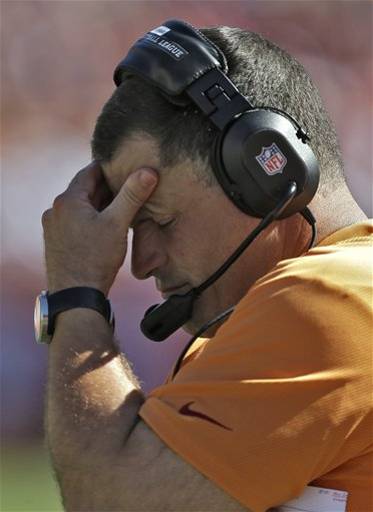 Joe still cannot get a straight answer on what the heck happened on the field goal debacle early in the fourth quarter when the Bucs were flagged for unsportsmanlike conduct.
Instead of attempting a 51-yard field goal, the Saints were gifted a first down. You just don't do that for Drew Brees. And predictably, he burned the Bucs for a touchdown.
Joe isn't sure why the unsportsmanlike penalty was called. Dave Moore on the Buccaneers Radio Network claimed it was for an illegal shift. Joe heard a variant version of Moore's after the game, and two local TV types claim the penalty was for someone barking out signals to intentionally confuse the kicking team.
Mike Pereira, former Vice President of Officiating for the NFL and current FOX talking head, apparently, per the Twittering of Joe Henderson of The Tampa Tribune, claimed it was an illegal shift and said, paraphrasing, Schiano could get away with that at Rutgers but not in the NFL.
Joe received several Twitter messages when the play happened claiming Schiano was the culprit for the penality. Joe somewhat disagrees.
Yeah, the buck stops with Schiano, the Bucs head coach, who refused to discuss details of the play in question after the game. That play, a shift or barking out signals, had to have been worked on in practice. Does anyone really believe Schiano would draw up a special teams play in the
dirt in the middle of a game and run it? Of course not.
So why, when this was practiced, didn't another member of the Bucs coaching staff say, "Hey, Greg, this is possibly illegal. Let's check with the league office if we can do this."
No, the mess created on the field goal defense isn't on Schiano, at least not directly. There's a reason a head coach has a staff and Joe believes Schiano's staff let the head coach down, and the team, on this one.