Black Takes Slap At Former Position Coach
October 7th, 2012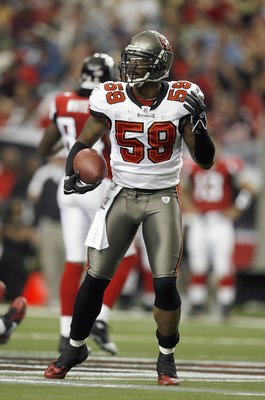 Who took over for Joe Barry and coached the Bucs linebackers the last two seasons?
That's a reasonably tough trivia question. And the anwer is a guy that Quincy Black clearly didn't think too highly of, Joe Baker. Black told Tampa Tribune scribe eye-RAH! Kaufman that he appreciates the change Bucs' front-seven coach Bryan Cox has brought to the table this season.
"Coach Cox has a linebacker's personality," strongside linebacker Quincy Black said, "and that's something we haven't had around here for a couple of years."
Hmm, it's noteworthy to Joe that Black was voted by teammates as a Bucs captain last season yet, from this comment, was harboring a lack of respect for his position coach. There's a lousy combination.
Black has hardly earned his gigantic contract this season (13 tackles) but he's no longer a head-shake inducing liability.
It's no surprise that Greg Schiano, a former college linebacker, has the Bucs linebackers performing far above the dreadful play the Bucs got at the position last season.