Adrian Peterson Locked And Loaded
October 24th, 2012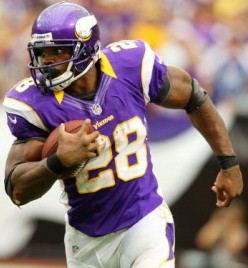 If anyone thought stud Vikings running back Adrian Peterson was washed up after an ugly knee injury last year, well, Peterson put all of that to rest by racking up 153 yards last week against Arizona.
Vikings coach Leslie Frazier had a hunch before the game that Peterson had overcome the hump of rehabilitation, writes Brian Murphy of the St. Paul Pioneer-Press.
Frazier looked him in the eyes and realized his superstar was not just physically ready to shoulder the offensive burden against a tough defense but confident he would get the job done.

The resulting 153 yards on 23 carries in Minnesota's 21-14 victory Sunday, Oct. 21, validated the run-heavy strategy and signaled Peterson has graduated from recovery to the next phase of his career following Dec. 30 reconstructive knee surgery.

"I really believed that we were going to need him to have a big game for us and he said, 'Coach, I'm ready. If that's what you feel like we need to do, give me more carries, whatever, I'll be ready,' " Frazier recounted Tuesday. "Then he had a great practice on Friday. The way he moved I knew what he said was not telling me something I wanted to here. And then he went out and played that way, and we needed to have that type of game."
This is the daunting task the Bucs face tomorrow night at the big baggie in the northlands, the Minneapolis Metrodome (Joe knows it's called something else these days; some non-descript,forgettable corporate name).
The Bucs are stingy against the run. Peterson makes defenses look like fools. Something has to give.
This just might be an old-fashioned cat-and-mouse game: Keep the ball out of Josh Freeman's hands by pounding the ball with Peterson.
But if the Bucs can contain him, the ball will be in Freeman's hands much more often.
This type of drama is why a higher authority invented beer.