The State Of The Bucs' Running Game
September 20th, 2012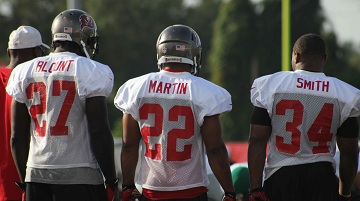 "I think we're constantly trying to find the runs that are going to be the wear-the-opponent-down runs. And not necessarily glamorous or exciting for the fans, per se, they have the chance to go through and those serve a purpose and they might break, but it's trying to wear down a defense, a cumulative effect which is going to set up some of those shots [downfield.] And there's others that we can get out on the perimeter, and those could be some of our bigger plays. And I think it just comes down to having the patience to see it through because eventually the big runs are going to happen. You know, historically, a lot of those big runs occur when the offense is in a one-back, three-wide-receiver type of a set. You know you spread out the defense a little bit more. But we're focused more on just making sure that we're productive with the run. We don't want to have the negative run. Getting four yards, five yards, that would be ideal. And the big runs will take care of themself. We just gotta focus on doing our job." — Bucs offensive coordinator Mike Sullivan speaking today on the state of the Bucs' running game.
Joe's watched the Bucs-Giants game a few times at this point, and Joe continues to be sick to his stomach that the Bucs couldn't — and didn't — run the ball with an 11-point lead on first down with only 39 seconds left in the third quarter.
Joe bought in months ago that the Bucs were going to run the football as much as any team in football. Greg Schiano has said multiple times that his goal was to run the football "when we want to." And for Joe, that was the textbook moment to impose the high-priced offensive line's will on the Giants, much like they closed out the game on the ground against Carolina.
Joe typed up the full Mike Sullivan quote above in hopes of finding some peace of mind, but Joe remains unsettled.
It's only two games into the New Schiano Order, but Joe sincerely hopes the Bucs find a commitment to the running game. To use Sullivan's words, "the patience to see it through."