Stopping Gerald McCoy
September 28th, 2012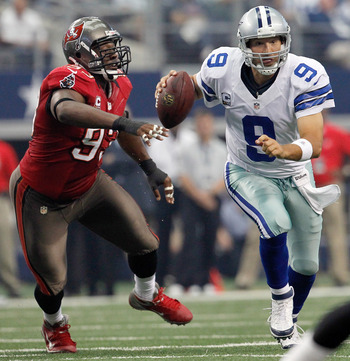 It's pretty simple this Sunday for the Bucs. Well, simple in that the way to beat the Redskins is simple. Getting the job done isn't quite as simple as the plan.
The plan is to stop Robert Griffin III. Very much like Michael Vick was with the Dixie Chicks years ago, if you stop RGII, you will stop the Redskins.
Part of that plan will be centered on Gerald McCoy. If GMC, who has been a beast so far the first three weeks of the season, can rush RGIII out of pockets before he is ready and create havoc inside, it will go along way to stopping the Redskins.
The Redskins, of course, know this. So just as much as RGIII is the key to shutting down Washington, the Redskins brass believes containing GMC is the way to control the Bucs defense, writes Mike Jones of the Washington Post.
How he beats you: The third overall pick of the 2010 draft, McCoy is off to the best start of his career. After battling injuries his first two seasons (playing a combined 19 games), McCoy finally is healthy and has three sacks in three games for Tampa Bay. The 6-foot-4, 300-pound Oklahoma product is disruptive in both the run and passing games. McCoy also has recorded a pass breakup, a forced fumble and eight tackles.

"Any time you're that high of a draft pick, I think everybody knows how talented he is," Redskins offensive coordinator Kyle Shanahan said. "I think he's finally healthy. He's playing hard, he comes off the ball, he's quick, he's big, he's a handful."

How to stop him: The Redskins' interior linemen can't get beat off the line. They have to try to keep McCoy out of the backfield so Robert Griffin III can effectively run the offense without taking the pounding he absorbed last week, when he was sacked six times against Cincinnati. If the Redskins can keep Tampa Bay's defensive front off balance with a variety of running schemes and quick passes, they could have some success. But rushing yards could be hard to come by. The Bucs rank first in the league against the run, yielding only 47.3 yards per game.
Of course, GMC will need help. It's not just him, but he is certainly a key. Joe believes it will take pressure from the corners and outside as well, which is where Michael Bennett and Lavonte David come into play.