Cadillac Wants Back In The League
September 21st, 2012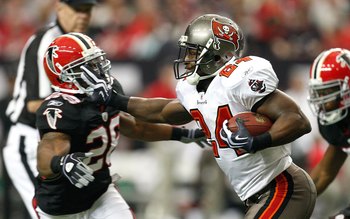 Seeing Cadillac Williams in a Rams uniform last season was awkward. It also was a bit frustrating considering unemployed Kregg Lumpkin was wearing Bucs colors.
Both are now unemployed, but Cadillac told the Ron and Ian Show today that he feels great and wants to tote the rock again in the NFL.
"Still hoping maybe I get that call here," Cadillac said.
Interestingly, Cadillac, now 30, said when he wasn't re-signed as a free agent by the Bucs he didn't have any sort of good-bye chat with the team. "I actually didn't even talk to Raheem or the organization. It was just one of those things. They just wanted to move on."
On the New Schiano Order, Cadillac said he likes what he sees from the head coach.
Joe wishes Cadillac well. There may never have been a tougher and more inspirational Buccaneer. Multiple gruesome injuries couldn't crush his love and spirit to play the game.