Bucs Kicking The Tires Of Jeff Demps
August 14th, 2012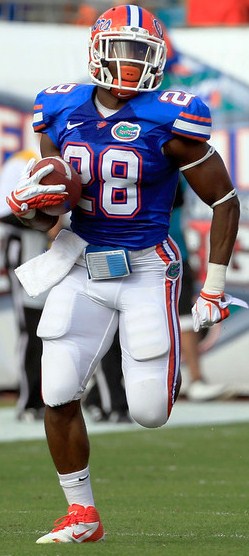 It seems the Bucs braintrust is uneasy about its depth at wide receiver and return specialists and is giving track star and former Florida Gators slash player Jeff Demps a look-see, so reports Scott Reynolds of the PewterReport.com.
Demps, who has run the 100-meter in a time as fast as 10.01, did not sign with an NFL team after going undrafted in April because he wanted to focus on training for the 2012 Olympics at the time. He is now a free agent and has several teams interested, including the Buccaneers, who have been touching base with Demps as far back as the early summer prior to the Olympics.

In fact, the Bucs came close to signing Demps this summer when he failed to qualify for the Olympics, finishing seventh in Oregon. He was added to the 2012 U.S. Olympic roster as a member of the 4×100 meter relay teams, as a replacement for Mike Rodgers who had suffered a stress fracture. Instead of signing with the Bucs in July, Demps wanted to focus on racing in the Olympics and then concentrate on football in August.

Demps raced the first leg of the of the second qualifying heat, helping the team to a time of 37.38, breaking a 20-year American record. Demps didn't run in the final, but his teammates ended up finishing second, earning a silver medal. As part of the team, Demps received a medal.
What does this tell Joe? It tells him that Preston Parker and Sammie Stroughter better be watching their backs, and perhaps Arrelious Benn.
Now Joe doesn't expect Benn to be cut, but it wouldn't shock him, as Joe wrote earlier this training camp, Schiano is a stickler for many things, including showing up to practices. Benn, who has been nothing but injury-prone in his first two seasons, hurt his knee in a collision with E.J. Biggers and hasn't practiced since the opening days of training camp.
Parker and Stroughter appear to be one of the odd men out if Demps is signed. Right now Joe would have to assume Tiquan Underwood is the No. 3 receiver the way he continues to make play after play in each practice, much more so than Parker or Stroughter.
Schiano loathes fumbles and penalties like Joe hates warm beer. Parker, last Friday against Miami, not only coughed up a punt, he got flagged for an unsportsmanlike conduct penalty, which is dumber than dumb and all but begging Schiano to cut him.
Stroughter has been struggling hanging onto the ball as well in return drills in camp, even letting a punt go through his arms this morning.
While Joe isn't high on Demps — name the last time a track star did anything in the NFL, Willie Gault? That's 25 years ago. The history of track stars in the NFL is paper-thin.
Hello, Renaldo Nehemiah.
Speed is great but in football, players are not running straight lines. While Demps might sell two dozen tickets to those wearing orange and blue glasses, Joe is very skeptical, based on NFL history, of Demps making a dent with the Bucs.
Remember, 31 other NFL teams thought so much of Demps, he was never drafted much less signed to a free agent contract as we near the halfway point of preseason.