Sullivan Uses Mike In Practice
July 30th, 2012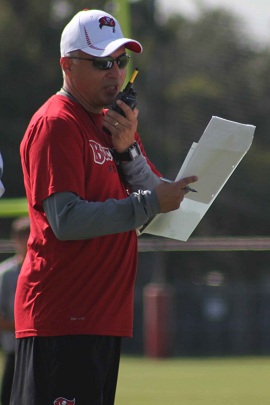 It's a game-simulation detail Joe doesn't recall seeing in practice during the Raheem Morris era, certainly not routinely like it's seen now. 
Offensive coordinator Mike Sullivan radios plays into Josh Freeman using a walkie-talkie, much like a headset would be used on gameday.
What does this mean? Joe can't say it means much. But it's another example the New Schiano Order's focus on details.
Regarding Sullivan, offensive senior advisor Jimmy Raye told Joe that there's been no decision made yet on whether Sullivan will call plays from the sidelines or from the big booth in the sky.
As long as there's no Benn'd around on Sullivan's cue cards, Joe will consider that a good start.