Sights And Scenes From Day 2 Of Bucs Minicamp
June 13th, 2012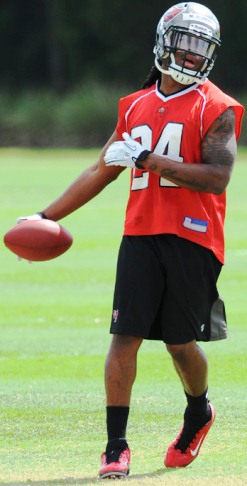 Underwear and helmets football returned to One Buc Palace today in Day 2 of manadatory minicamp for the New Schiano Order. Joe watched about 90 percent of the action and here are some impressions:
*Yesterday Joe wrote that Josh Freeman wasn't impressive. Today was more of the same with Freeman displaying some shaky accuracy. That's not to say Freeman didn't make good throws and a couple of great ones, but if Freeman and fans are to hold him to a "franchise quarterback" status, then the standard must be high. Of course, it's not always clear whether off-target throws are the fault of Freeman or the route-runner — the Bucs are learning a new playbook — however Freeman's reaction after a play often is an indicator.
Today, Freeman was picked off over the middle at the start of 11-on-11 drills by Mark Barron. It was off play-action. He also overthrew a wide-open Tiquan Underwood on a deep ball in the end zone, among other off-target throws.
Some highlights were a great back shoulder touchdown throw from Freeman to Vincent Jackson against Myron Lewis in what look like tight coverage. Freeman also zipped a short TD pass to Jackson in the back of the end zone with Quincy Black covering. This one got Greg Schiano particular excited and he ran over to high-five Jackson. (No arm bar or chest bump). Schiano is hardly one to cheer on every caught ball, and this play for some reason really jacked him up.
*Myron Lewis looks healthy and surely looks like he belongs in the talent department. Of course, staying healthy has always been a major challenge for Lewis.
*Tiquan Underwood, the former Patriots wide receiver and Rutgers alum, definitely stood out today. At one point, he didn't work on the "second-team" field when the Bucs split up the squad, and he made numerous catches and was open behind Aqib Talib when Freeman overthrew him in the end zone. (see above). Clearly he helped his chances of making the roster today.
*Dezmon Briscoe surely doesn't look as sharp as he did when he was a standout in training camp last season. He had one drop today in limited balls thrown his way.
*Doug Martin looks very precise and fluid in his route-running.
*Schiano spent a lot of hands-on time with the punt team and punt defense, specifically extra teaching on defending a fake punt. Schiano is often praised by players for being a true teacher, and that was on display there. The punt team (not punt defense) had some issues on Tuesday and Schiano seemed pleased with today's action and improvement.
*Pretty much every receiver had a drop today that Joe saw, including what might have been the first of the year for Vincent Jackson. Benn dropped one in the end zone and Sammie Stroughter had a miss at the goal line that left him visibly furious with himself.
*At one point Joe thought Mossis Madu was speedster rookie Michael Smith. That's saying something for Madu's burst and quickness.
*Rookie cornerback Leonard Johnson seems to lack some speed and appeared a little frustrated with himself in coverage.
*Watching Dallas Clark practice, Joe feels like he's watching a fundamentals video — and it's not of the guy in those videos who shows what not to do.
*Preston Parker clearly is getting a lot of love from the coaching staff. Twice today there were plays when Parker was not the one who caught the ball but he was the one getting loud vocal praise, presumably for his route running. Interesting that today the Bucs Twittered that Parker had an average "of 7.7 yards after catch in 2011 was 2nd among all NFL WRs."
*Practice ended on a nice pass breakup by Anthony Gaitor covering Vincent Jackson.
The Bucs are back at it tomorrow for the third and final day of mandatory minicamp. Stick with Joe tonight and through the week for more.