Public Training Camp Practices Released
June 25th, 2012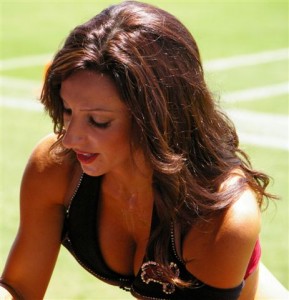 Joe is fired up!!!!
In 32 short days the Bucs will open up One Buc Palace to fans to watch training camp practices, as players put on the pads and try to win jobs and playing time the old fashioned way. Joe can't wait to see the many camp battles, highlighted by LeGarrette Blount and Doug Martin trying to earn real carries with every preseason touch.
Once again, the Buccaneeers will install bleachers for fans to watch training camp. Nine public practice dates have been released. Admission is free. And the best news is that eight out of nine of these open practices will be in the morning, rather than in the afternoon summer swelter as in years past. The non-morning practice is the popular night event at Raymond James Stadium.
Here's the current schedule, which is always subject to change:
Friday, July 27,  8:45 – 11:30 a.m.
Saturday, July 28,  8:45 – 11:30 a.m.
Sunday, July 29,  8:45 – 11:30 a.m.
Wednesday, Aug. 1,  8:45 – 11:30 a.m.
Friday, Aug. 3,   8:45 – 11:30 a.m.
Saturday, Aug. 4,  6:30 – 9:00 p.m. (Night Practice at RJS)
Monday, Aug. 6,  8:45 – 11:30 a.m.
Tuesday, Aug. 7,  8:45 – 11:30 a.m.
Sunday, Aug. 12,  8:45 – 11:30 a.m.
Buccaneers.com will update fans with more details as training camp approaches. There's always a chance free tickets will be required for entry, so Joe advises you to not just show up without checking JoeBucsFan archives or the official team website.