Kellen Winslow Blasts Greg Schiano
June 15th, 2012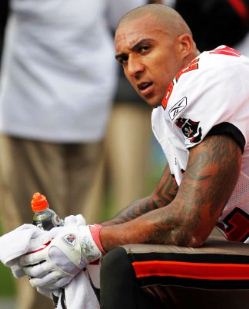 Any Bucs fan who thought Kellen Winslow and Greg Schiano were going to get along swimmingly was treated to a rude awakening when Winslow suddenly was traded to Seattle after he didn't show up to an OTA session this spring.
Now Winslow has confirmed what most Bus fans thought: he blew off OTAs purposely because he quickly developed a hatred for Schiano and his strict ways.
Speaking on Michael Robinson's "Real Rob Report," Winslow blasted Schiano for his attention to detail. Fueled by his still lingering anger over the Bucs jettisoning Raheem Morris and not wanting to cooperate with Schiano, Winslow explained he decided his days with the Bucs were done, so reports Will Brinson of CBSSports.com.
"Real [bleep?] Schiano came over there, uh, [bleeping?] 'TOES ON THE LINE! TOES ON THE LINE!' Blowing the whistle. You can't laugh. You can't joke around. So I decided not to go to OTAs," Winslow said. "You know they got my man Ra [Raheem Morris] up out of there, and I was loyal to him. Woulda take a bullet for that dude. So I had to roll, man."

Asked by Robinson what "was so cool about" Raheem Morris, Winslow said he's a "player's coach," not a "company coach" and that the Bucs "fired the wrong dude."

"The cool thing about Rah is, Rah could be here talking to us right now," Winslow said. "He wasn't a company coach. He was a player's coach. I mean, just everything about him man. He was real. You could talk to him face-to-face, real man-to-man. They fired the wrong dude up there."
Joe calls bullspit on this. Joe saw plenty of laughing and hooting and hollering Thursday when Schiano had Donald Penn catch a pass to end practice.
Look, the Bucs lost 10 games in a row last year to close the season, many grotesquely so. There shouldn't be any laughing after that crap! Joe guessing in Winslow's eyes that meant more of the same kind of practices.
Or is Winslow upset because Schiano probably was going to force him to practice, which he skated on with Morris, fairly, to protect his gimpy knees?
Joe wishes Winslow the best in Seattle. Maybe Pete Carroll won't mind if Winslow runs a wrong route in the 17th week of the season blowing up a teammate in the process.
Below is the video of Winslow's tirade. Fast-forward to the 4:21 mark.