Could Lavonte David Be Elevating LB Play?
June 17th, 2012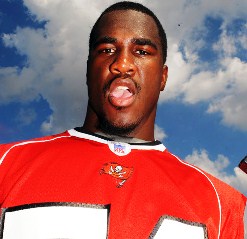 Joe was so disgusted by the play of the Bucs defense last year he doesn't know where to start. During the grotesque 10-game losing streak to close the season, Joe didn't know whether to chug Jack Daniels or Mylanta the defense played so horribly.
The key culprit was the play of the linebackers. Sure, Mason Foster racked up tackles (not like he didn't have any chances to rack up tackles). Foster was playing out of position, had zero offseason and, if that wasn't enough, he was saddled with the important responsibility of calling defensive plays.
Talk about being thrown into the fire.
Getting little help from either side of Foster, or from up front, Joe cannot think of a worse linebacker corps in the NFL in 2011.
That seems to be changing under the New Schiano Order, which places signifcant emphasis on stopping the run, something the Bucs haven't done for years. Sure, it's awfully early, training camp is six weeks away, and for the handful of practices the Bucs have had, they have been in underwear. It's nearly impossible to gauge how linebackers are playing when contact is disallowed, but by the judgement of Bucs defensive coordinator Bill Sheridan, rookie linebacker Lavonte David is already shining, as Stephen Holder of the Tampa Bay Times documents.
David is progressing and living up to the high expectations. Billed as a sideline-to-sideline playmaker with elite coverage skills, David has shown some of those traits.

"If you were just playing five-on-five backyard tackle, I'd bet he'd make a ton of tackles, and that's what we're counting on him doing out here." defensive coordinator Bill Sheridan said. "He's got to learn all the intricacies of the defense and coverage, but he's instinctive. I'll bet he makes 10 tackles in the first preseason game. Not to put any pressure on him.

"He is a talent and I expect him to be a playmaker. … I anticipate him having an excellent year."
This gets Joe so fired up he could start downing beers… on a Sunday morning, no less.
Joe is enamoured with David. Joe watched quite a few Nebraska games last year and astute readers will recall Joe waxing about the Bucs acquiring David before the 2011 season was completed.
The Bucs sorely missed a linebacker who pursued from bench to bench.