Can't Move Aqib Talib
June 20th, 2012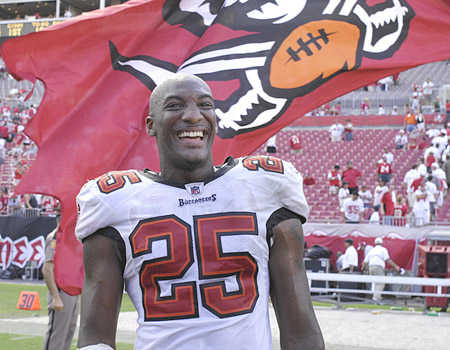 With the exception of a possible — keyword there, "possible" — suspension by NFL warden commissioner Roger Goodell, the book is closed on Aqib Talib's legal troubles in Texas.
For this reason, writes Chris Burke of SI.com, the Bucs cannot move Aqib Talib.
Now some believed Talib was a goner after he was charged last summer after he was hit with a felony charge. Many howled that the Bucs should wash their hands of Talib, given how he previously seemed unable to stay out of trouble's way.
That's not likely to happen now, Burke notes, largely because the Bucs have no one to replace him.
Schiano and his staff have moved forward with the plan to shift longtime cornerback Ronde Barber to free safety. Then, rather than take a cornerback in the draft, the Buccaneers nabbed safety Mark Barron at No. 7 overall.

Had Talib ended up facing a lengthy trial or, worse yet, been sentenced to prison time, Schiano would have been forced to reorganize. The obvious option would have been to slide Barber back to cornerback, but Tampa Bay doesn't really have a ready replacement at safety — last year's starters there were Sean Jones and Tanard Jackson, with the latter being cut due to a failed physical.

E.J. Biggers would likely be first up at cornerback in Talib's absence, after starting six games last season. The other choices for Schiano there are Myron Lewis and 2012 sixth-round pick Keith Tandy.
Now Joe has gone on record as saying Talib is not an elite corner. Is he good, yeah, not elite.
That stated, not once has Joe heard Talib is a bad teammate, sans an ugly helmet-wielding incident years ago. In fact, last summer Talib was every bit a leader on the field, helping younger defensive backs during Josh Freeman's workouts during the asinine lockout.
This summer, new Bucs coach Greg Schiano has lauded Talib for his work ethic, attention to detail and how good of a teammate he is.
So given that the Jerry Springer-like Texas episode is now over, criminal charges dropped, now is not the time to move Talib, even if his trade value has risen. The Bucs are just too thin currently in the secondary.