Bucs No. 2 Receiver Job Wide Open?
June 9th, 2012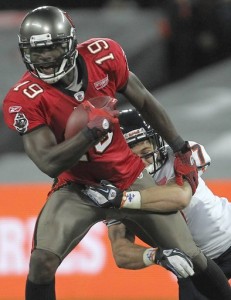 Mike Williams caught 65 balls in 2010 and another 65 balls in 2011, and he played in every game during both seasons. This is inconsistent?
ESPN NFC South blogger/beat writer Pat Yasinskas thinks so, so he advised during a live chat yesterday.
Alex (IA) [via mobile] : What can Bucs fans expect from the wide receivers besides Vincent Jackson? He's a solid number 1, but do we really think that Mike Williams can get back on track after last year?

Pat Yasinskas: I really don't know what to expect after Jackson. But I think there's a bunch of young guys there and all of them have some talent, but haven't been real consistent. I think whoever steps up and is consistent in training camp and preseason will earn playing time.
Joe's written how about the perception by many in the media, and subsequently the belief of many Bucs fans, is that Mike Williams isn't a top quality NFL receiver. This routinely flabbergasts Joe. Go back and look in NFL history, and it's not so easy to find guys that have caught 130 balls over their first two seasons like Williams has.
Vincent Jackson caught 30 balls over his first two years. Steve Smith snared 64. Roddy White pucked 59 during his first two campaigns. Keyshawn Johnson had 134. The big name receiver in Williams' draft class, Dez Bryant, has 108.
Receivers usually need a little time to mature, especially if they're not in a pass-happy offense and they're playing with a young quarterback, and have to contend with Greg Olson as their offensive coordinator. 
Yasinskas went on in the chat to say he believes the No. 2 receiver gig on the Bucs is wide open.
It might very well be. But Joe knows Greg Schiano has said many times that he wants the best football players on the field. So Joe would be quite surprised if Mike Williams isn't starting and playing nearly every snap. He is that good, even if his play dropped a notch last year along with the rest of the team.