Josh Freeman No. 22
June 24th, 2012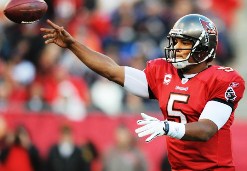 To help fill the NFL's unofficial dead period until training camp begins, Pat Yasinskas of ESPN is unveiling his top 25 players in the NFC South. Recently, he released his No. 22 player, which happens to be Bucs quarterback Josh Freeman.
What he did in 2011: After a tremendous first full season as a starter in 2010, Freeman appeared to take a major step back last season. He threw for 16 touchdowns and 22 interceptions. At times, he appeared to be nervous. At other times, he appeared to be forcing things. Freeman was bad, but so was his supporting cast and his coaching.

Why he's No. 22 in 2012: The front office and the coaching staff firmly believe Freeman can be a franchise quarterback. They think the physical tools, work ethic and intangibles all are there. The front office already has done its part, signing free-agent Vincent Jackson to be the No. 1 wide receiver, drafting Doug Martin and planning to use him as an all-purpose running back and adding All-Pro guard Carl Nicks to an offensive line that looks like it has a chance to be very good. Freeman's learning a new offense with coordinator Mike Sullivan, but it's an offense that's supposed to put him in a position to succeed. Freeman didn't really have a chance last year because so much was going wrong around him. This year, there are no excuses. It's time to find out what Freeman truly can do.
That's just it. Which Freeman should Bucs fans expect to see? Is it the Freeman who had the sick touchdown-to-interception ratio of 25-to-6 in 2010, or the Freeman who threw a ghastly 22 picks last season?
Sure, he has new toys to play with and Bucs rock star general manger rid Freeman of a cancer that was the root of many of his interceptions. B But transforming from a bad quarterback to a good quarterback isn't that simple.
The thing that concerns Joe is that Freeman is now on his third offensive coordinator in four years. Ask Jason Campbell and Alex Smith how a revolving door of offensive coordinators messes with the development of quarterbacks.