Leonard Johnson Excited To Be With Bucs
May 6th, 2012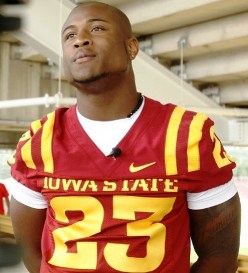 Of all the Bucs rookies Joe had a chance to talk with — the Bucs didn't make that many available — no player had a bigger smile on his face than cornerback Leonard Johnson.
The former Largo High School quarterback and Iowa State cornerback somehow fell through the cracks of the draft and signed with the Bucs as an undrafted free agent.
After a strong series of practices during the rookie minicamp, Johnson learned, yes, he will be at Bucs training camp later this summer. He admitted it is a dream come true to play for the same team he paid to watch as a young teenager.
Ironically, when new Bucs coach Greg Schiano was coaching Rutgers, he staged a football camp at Jefferson High School in Tampa and Johnson has a picture of Schiano posing with Johnson when he was 14. Schiano admitted he didn't remember the moment but was taken aback when Johnson showed him the picture, seeing that he and Johnson have a past connection other than Johnson playing against a Schiano-led Rutgers.
Below is the transcription of Johnson's chat with reporters today:
[Not being drafted], I'm past it. The draft was something I was really, really looking forward to because a lot went into the preparation and game film. I was expecting something to come through on draft day but God works in mysterious ways. I am more than happy to be right here.
It's a great situation for me. I am excited to come to work every day and compete and bring a competitive edge. Just be myself. This gives me the opportunity to stay in touch with my community because I do things in my community. My mother won't have to take off work to fly out to see me play because I will be right here for my hometown team.
[On the call from Schiano informing him he was offered a contract with the Bucs.]
I was excited, I was excited. It startled me at first. Just to know that I grew up watching the Tampa Bay Buccaneers and that I am a Buccaneer now, it was a bit overwhelming. I have been talking to my mom and my agent and I was all aboard. I was ready.
[On how he will be practicing with Ronde Barber in the coming weeks.]
I grew up watching him. Great guy. I haven't met him yet personally but everything I have heard about him [from others at One Buc Palace] I can't wait to introduce myself to him and I am looking forward to getting next to him and getting some advice. Kind of just be underneath him. I'm going to force myself on him until he tells me to run away.
Not saying you may have a chip on your shoulder, but do you have any added motivation to prove to other teams, "Hey, you could have had me, you could have drafted me."
I wouldn't say I have a chip on my shoulder but I am just going to be me. I am a guy who plays very aggressive and plays on the edge. I want to keep everyone excited. I am going to bring everything I do well to the Bucs. I wouldn't be myself if I didn't. Hopefully, that will put myself where I need to be and where I want to be.
[On how Schiano watched all 12 of Johnson's games on tape prior to facing Iowa State in a bowl game.]
I knew his gameplan because they had a top receiver and knew there was going to be the matchup, Mohamed Sanu and I. So I know for a fact coach looked at previous games to prepare them. I did pretty good against them, they had limited receptions.
[Did you go to many Bucs games growing up?]
I did. I remember coming into the stadium when I was young, you could come into the stadium for $20 and [sit] way up on top. I'm so excited to come home and be right here where it all started.
Schiano said that you attended one of his football [camps] when you were in high school. Do you remember that?
It was 2004 and I think it was at Jefferson High School. They threw a football camp and I was 14, a freshman, a quarterback. I went to the camp. After the camp, coach took pictures with everyone in the camp and I saved it. My mom and I, she went through the pictures and said, "Hey, look what I found, you and your new head coach. How crazy is that?" That is crazy, isn't it? He gave a brief message to everybody but I can't remember what he said.
[The Bucs only drafted one other cornerback. You must look at this as a real opportunity.]
This is an opportunity. I am here. I want them to know I am here. Film doesn't lie. My film speaks volumes. I could have easily been picked from second to fourth [round], but unfortunately, that didn't happen. But the draft is over. I'm trying not to talk about it because I get fired up. I am a Buc and I am ready to compete. I know the guys they got here are well-respected. The guys they brought in are great players but I'm a great player as well. I'm a top guy. It's not how you get here; it's what you do when you are here.
[What are some of the things you do for your community?]
I threw a football camp down in North Greenwood. I had about 300 kids come out. I will throw another one sometime in July. There was a streak of violence in the community, some murders, and we wanted to reach out to the kids in the community, so I reached out to my college teammates and friends I grew up with [to organize the camp]. The message was mostly for the minorities, even though there is a lot of stuff you see, violence and drugs, there are guys who came out of here who are productive and doing great things, not just football.
[How did a guy from Florida adjust to Iowa State and ten feet of snow?]
Iowa State was probably one of the best things to happen to me. I grew up quick, I matured a lot and I learned how to be accountable. Horrible waking up at 5:30 a.m. to get prepped and go to 6 a.m. workouts. It was all about how fast can you adapt and I'm a guy that can adapt pretty fast.
[So you got used to the snow?]
I got used to it.