No Tim Tebow For Bucs
March 19th, 2012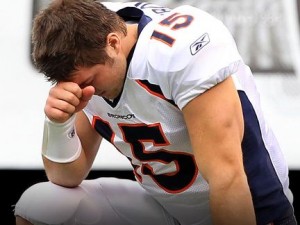 The moment Joe heard Peyton Manning was Denver-bound, Joe just knew there would be Bucs fans wondering aloud about the Bucs trading for Tebow.
The former Gators star is so popular in this state, that even yentas know of him… and like him. Why, as Joe was in his dermatologist's office today, he heard the hired help talking amongst themselves about the Bucs maybe acquiring the southpaw.
Folks, it ain't happening.
The Bucs organization is strongly if not 100 percent behind Josh Freeman, the Bucs starter. Bringing in Tebow would do nothing but muck up the waters here and become a major distraction.
Still, insiders among the NFL are trying to link Tebow and the Bucs. Take Shaun King, one of only three quarterbacks to lead the Bucs to an NFC Championship, who took to Twitter this morning and banged the drum for Tebow coming to Tampa Bay.
King, who will again appear on NBC Sports Network's SportsTalk tonight at 6 p.m., and a replay at 11 p.m., believes Tebow will be an asset with the Bucs both off the field (ticket sales) and on the field.
@realshaunking: David carr was the #1 pick in the draft, do u think eli manning is worried that he is his backup?
Before Joe gets going here, Joe really likes King and thinks he's a good guy with good information. But King Twittered the above on his flight to New York so Joe hopes the reason he put out such nonsense was that King had a few cocktails on his flight.
To compare David Carr backing up Eli Manning — who just won his second Super Bowl MVP award — with the Giants and Tebow potentially backing up Josh Freeman with the Bucs is absurd.
There might only be eight hardcore fans of Fresno State (where Carr played college ball) in the stands of Giants Stadium. Maybe. Here, Tebow, to a significant segment of the Bucs ticket fan base, is one step short of God for what he did in Gainesville.
Additionally, Carr was a complete flameout as a starter, partially because he was beaten to a pulp. Tebow actually led a team to a playoff win. Bucs fans are starved for a playoff berth.
With Tebow here, it would be an absolute circus, which football coaches loathe like an outbreak of eczema.
The phone lines on sports talk radio not to mention the stands of the stadium on Dale Mabry Highway would be filled with deafening chants for Tebow whenever Freeman forced a(nother) pass to Kellen Winslow.
And such nonsense would do nothing but hinder the development of Freeman.
No, Bucs rock star general manager Mark Dominik will have no part of Tebow. And for good reason.
Just turn the page on Tebow, Bucs/Gators fans.