Winslow Comes Cheap This Season
February 19th, 2012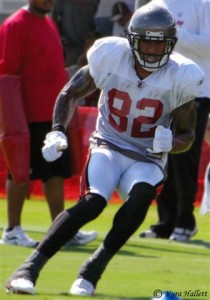 While Kellen Winslow shared a me-first attitude for all Bucs fans to see this past season, Joe clearly sees Winslow's value and would like him get a clean slate from the new coaching staff.
Sure, Joe would cut or bench Winslow if his whiney ways and questionable blocking effort returned, but Winslow hardly was the "problem" with the Bucs' offense and he still catches balls — 75 last year during another healthy season.
NFC South blogger Pat Yasinskas, of ESPN.com, isn't feeling that kind of Winslow vibe. Yasinskas wrote about the likelihood of Winslow getting cut in a post Saturday. His reasoning somewhat stunned Joe; Yasinskas seems to believe the Bucs might want to save the few million bucks their tight end would cost.
Now, as I look at the details of Winslow's contract, I'd be even less surprised if the Bucs released him. They don't really need salary-cap space because they already have about $68 million, thanks in large part to unused cap space from 2011 that has been carried over. 

But they could instantly free up another $4.8 million in cap space by releasing Winslow. That $4.8 million figure is what Winslow's cap figure is slated to be in 2012 and the Bucs wouldn't suffer any cap hit if they got rid of Winslow. That's because the contract Winslow signed after the Bucs traded for him in 2009 was structured in a unique way. 

He did not receive any signing bonus, so there is no outstanding pro-rated bonus money on a contract that runs through 2014. Instead of a signing bonus, the Bucs guaranteed about $20 million in base salary in the first three years of Winslow's deal. 

Winslow is scheduled to earn $3.3 million in base salary this season …
Maybe Joe's missing something, but Winslow seems like a great value at $3.3 million + potential bonus money. And why would the Bucs need more salary cap room? In addition, if Winslow's on the team and the Bucs cut him to send a message of discipline to the club, that's hardly an expensive lesson to teach a young NFL roster.