Dominik Talks More About Spending
February 29th, 2012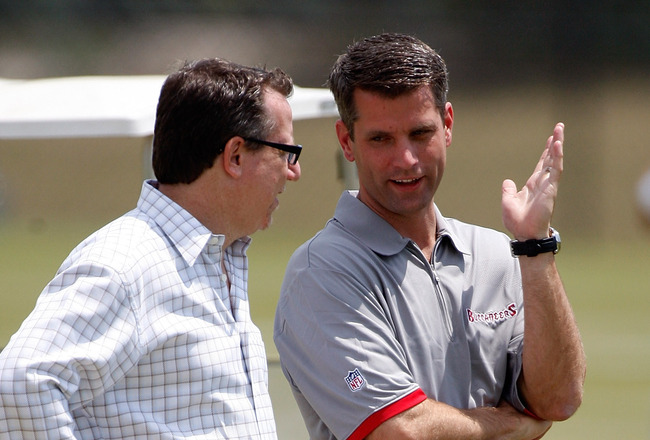 Joe knows many Bucs fans near a state of complete arousal just thinking of Team Glazer opening the company checkbook to sign free agents.
And that excitement was stoked several days ago when rockstar general manager Mark Dominik said the Bucs would be active in free agency, though that was a rather vague statement.
Well, Dominik was talking about spending again, this time in a little more detail during an interview yesterday on Movin' the Chains, the absolute must-listen-to show on Sirius-XM NFL Radio hosted by Pat Kirwan and Tim Ryan. 
"There has to be a mix and a match of free agency along with a football team. And you know, obviously we lost 10 in a row. We have to continue to try to acquire more talent for this football team," Dominik said. "And we'll do that in free agency if we can and hopefully we will. I mean that's our goal. We're prepared. We just have to wait and see what the list is. You know, because obviously with the franchise tags and transition tags that clubs have the options to use, that's going to change the focus and the view of what free agency is today, versus what it'll be come mid-March."
Those who want to read between the lines and see a Team Glazer spending spree might be encouraged by Dominik talking about "franchise tags" and "transition tags"; those are expensive players.
Joe found it interesting to hear Dominik reference the loss of 10 in a row. Listening to his tone of voice, to Joe it felt like Dominik was admitting the team didn't have the talent it needed last season. Though Joe still thoroughly believes the tank job by Raheem Morris and his staff gets the lion share of the blame for the 2011 debacle.
Dominik didn't offer any hint as to the Bucs' positional targets in free agency, but he did offer this nugget for the read-between-the-lines crowd.
"We still need to, you know, do a lot of things for him," Dominik said of Josh Freeman.