Price Still 65 Percent
September 25th, 2011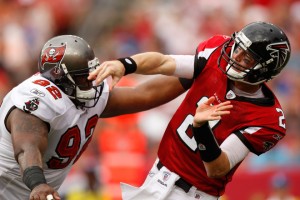 Joe will have plenty to say about the Bucs' entire defensive line, but Joe can't hold back how impressed he is by Brian Price.
It just can't be forgotten what this guy went through to get on the field this season and, per Price's quotes more than a week ago, he earned the starting job before the Bucs-Vikings game while only playing at roughly 65 percent.
Well, Joe talked to Price after today's game, in which Price recorded his first sack and was very disruptive behind the line of scrimmage, and Price says he's still playing at about 65 percent.
Pressed on how that's possible, Price said he feels his "motor getting stronger" and a little more comfortable on the field. But Price said he invests a lot of energy managing and blocking out his pain and focusing on everything but once he enters One Buc Palace or the stadium on gameday.
Joe can't wait to see what this guy can do at full strength.