Kyle Moore Talks To Joe
August 23rd, 2011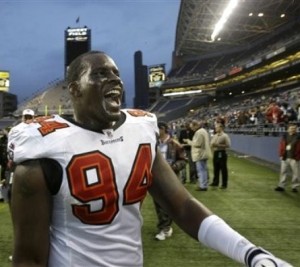 Anyone who has watched the Bucs first two preseason games has seen a changed man in defensive end Kyle Moore. A fourth round draft pick in 2009, Moore was pretty much invisible on the Bucs roster. Battling injuries for much of his first two years, when Moore did get on the field he was pretty much a non factor and has yet to record an NFL sack.
Perhaps because this is likely a make-or-break year for Moore with the Bucs, or perhaps because he worked out in the offseason with Kansas City sack machine Tamba Hali at Penn State with Nittany Lions defensive line coach Larry Johnson, and partly because Keith Millard and Grady Stretz are coaching up the Bucs defensive line, Moore plays like a far different player who is putting heat on quarterbacks.
  Moore spoke with Joe after the Patriots game about how he has evolved as an NFL player.
JoeBucsFan: Joe had his binoculars on the defensive line virtually all night and, like last week, you were in the backfield a lot, making plays. In the past couple of years here you never really got a decent start. You came in with a coordinator who wanted you to gain weight and he was gone after a few games. Then you battled through injuries and you never really got into the flow of things. You seem like a different player. Are the new defensive line coaches helping you that much?
Kyle Moore: We have great defensive line coaches who know how to pass rush. We have only had a short with them. I wish we had a whole offseason with them to learn everything they know. But in the time we have known them, we have had great improvement on the defensive line. We will get better.
Joe: What has Grady Stretz taught you that has helped your game?
Moore: Get off and get into the outside shoulder [of the offensive tackle]. Learning that and putting it together with what you already know helps a lot. We weren't really taught that the past couple of years and in the past, I wasn't taught that at all. Learning form him and getting to the outside shoulder, and if we can't get that to come with a counter move, just [along with Keith Millard] their wisdom has taught me a lot.
Joe: Personally, how does that make you feel that you now have coaches that can bring out the best in you and you are starting to see the results in your play? How does that make you feel about your game now?
Moore: It makes me feel good. As you can see I am taking the coaching in and when you have coaches who know what to do, it really helps my game all the way. I'm happy about that.