Clayborn Is Initial First-Rounder To Ink Deal
July 27th, 2011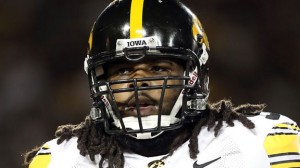 Rockstar general manager Mark Dominik said yesterday his goal was to have every drafted rookie signed and in camp on Friday. He might just get it done.
Per Adam Schefter, of BSPN, defensive end Adrian Clayborn signed a contract in the wee hours this morning, making him the first among his first-round peers to cash in.
@AdamSchefter DE Adrian Clayborn became first 1st-round pk under new labor deal to reach agreement on new deal. Blake Baratz and Bucs just finished deal.
 
Clayborn was at One Buc Place yesterday working out despite not having a contract, which drew high praise from Jeff Faine during an interview with J.P. Peterson on 1010 AM. Also yesterday, Dominik announced tight end Daniel Hardy (seventh round) and
new quarterback
middle linebacker Mason Foster (third round) inked four-year deals.
 
Is this very exciting? Not really. But it feels good.
 
Joe hopes Da'Quan Bowers is next. He tops the list of guys Joe wants to see in training camp.