J.P. Peterson Annoyed With Joe
May 26th, 2011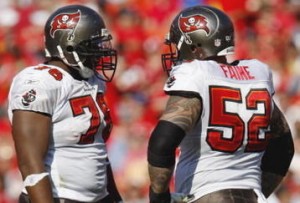 Call Joe a masochist, but Joe got a great laugh out of the prolonged on-air beating he took yesterday afternoon from radio host J.P. Peterson on WQYK-AM 1010.
Joe's used to getting slapped around in the comments section here, but this clubbing was special.
Peterson said, "I take offense" to the way JoeBucsFan.com blasted Jeff Faine for his disinterest in attending Josh Freeman's ongoing team training sessions in Tampa. Joe had called Faine a lousy captain after Faine said on air Tuesday night that he passed on joining his teammates.
Jeff Faine: I was actually invited. I guess they wanted me to come snap the ball a little bit and block air. But I decided my time was best served in the weight room than making sure that our snaps were still good. They're definitely putting in some work. These guys are out there throwing the ball. It's good. It's great for our young receivers and our young franchise quarterback to be able to get together and throw the ball around the yard a little bit and spend a little time together. They'll hopefully be able to basically supplement what we'd normally be doing. But of course it definitely isn't replacing the amount of work we'd normally be putting in, and that's something that's definitely going to be missed this upcoming season.

J.P. Peterson: Pretty good participation level?

Faine: "From what I've been told from Josh, I checked in with him earlier today actually, great turnout. These guys were lifting, doing a little running and doing some routes and what not. So it's been good."
Peterson said Faine doesn't miss OTA days, wants to play football, and the wrath of Joe and fans should be at the NFL for locking out players, not at a center who is passing on a rather meaningless May workout.
Peterson cited Faine's multimillion dollar businesses and said Faine "has got better things to do," noting that Faine is on a rigorous workout program to prepare for the 2011 season and has lots of responsibilities as an entrepreneur, like other players have with family and off-field commitments.
Peterson fielded calls and texts from listeners who sided with Joe, and Peterson said he believes some of the anger at Faine is misguided jealousy because Faine is a highly paid player and makes a pile of cash in the private sector.
Frankly, Joe couldn't care less what Faine does off the field. Joe's a capitalist, too, and admires Faine's business acumen.
For Joe, this comes down to Faine accepting a captain's role with the Bucs. Either you're captain and fully devoted to the team, or you're not. In Joe's eyes, Faine has used terrible judgement — and shown poor leadership sense — with his public comments about Freeman's workouts and by passing on attending.
First, Faine scoffed to the St. Pete Times weeks ago about how Freeman wouldn't be successful in getting meaningful attendance at informal workouts, if guys showed up at all. Yet Freeman said yesterday on Sirius NFL Radio that up to 35 players have been to workouts on specific days, including offensive linemen. And Joe confirmed yesterday that some defensive backs have been there.
Then, Faine all but says this week that his presence at these workouts is meaningless. For Joe, that's not captain-speak, and it shouldn't be accurate, given the veteran wisdom Faine should be able to impart.
This is a unique offseason. That can't be argued. Is Faine meeting his leadership duties as captain during these wacky, lockout times? No. And Joe will defend his honor and try to convince Peterson during a brief on-air, steel cage match today at 3:45 p.m.