Barrett Ruud: Linebacker Without A Team
May 17th, 2011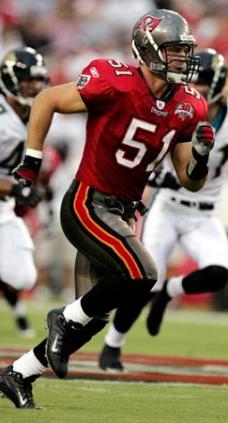 In between "grunting" with fellow iPhone types and working out at Saddlebrook Resort in Pasco County, Bucs (?) middle linebacker Barrettt Ruud is lost.
He's supposed to be a free agent. But NFL hatchetman Roger Goodell and his horribly short-sighted employers are hellbent on destroying the NFL as we know it with this lockout nonsense. Have you ever heard of a company that rakes in cash hand over fist actually going to court in order to shut itself down? Can you imagine?
Shoot, Ruud doesn't even know if the Bucs want him back or not. So like an expatriate is a man without a country, Ruud is a linebacker without a team.
After working out with the Eastern European tennis hotties of the WTA at Saddlebrook — smart move Mr. Ruud, very smart — Ruud took time out to discuss his status with eye-RAH! Kaufman of the Tampa Tribune.
"I keep hoping something will get done with this lockout," Ruud said. "There's been about five times when I thought something was going to get done, but here we are. It's pretty frustrating. Even if there's an agreement, nobody knows what's going to happen with free agency … we could be playing under 2010 rules."
The way Joe sees it, Ruud will be employed somewhere. He may very well be back with the Bucs in 2011 — provided there is a 2011 season — for a rate less than he expected or he may just go elsewhere such as the New York Giants.
Look, there are plenty of people who need to worry about their futures. There are cancer-ridden souls and those out of a job with no idea how they are going to pay rent much less food for their children. There are people who cannot afford proper healthcare.
Working out with the scantily-attired, spandex-laced Eastern European tennis babes in a plush, gated resort isn't exactly what Joe would call worrisome.