Unsourced Claims Of Talib's Demise
April 24th, 2011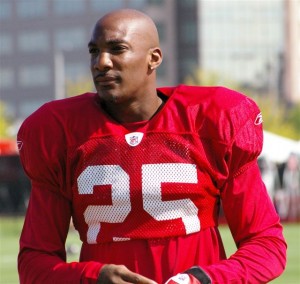 Bucs beat writer Rick Sroud, of the St. Pete Times, makes a pile of bold, unsourced statements today in a piece about the Bucs organization planning to dump Aqib Talib.
Joe is a bit skeptical — only because Stroud offers no source, not even an anonymous one. Here's just one of Stroud's statements that say the Bucs have written off Talib. 
As far as the Bucs are concerned, the outcome of the case won't matter. They know Talib at the least faces a long league suspension.

The Bucs have reached a point where they believe Talib's talent no longer justifies the trouble he generates. They believe it's only a matter of time before he runs afoul of the rules again.

That's why general manager Mark Dominik made it clear last week that the Bucs have altered their draft plans to include selecting a cornerback.
Joe suggests you click through above to the whole story and read all of Stroud's assertions.
First, Joe's not seeing where Dominik made it clear publicly that the Bucs "altered" their draft plans to grab a cornerback.  Joe's heard Dominik say the exact oppostite.
And if Talib gets off without admitting to using a gun, an outcome that seems quite plausible, why would Roger Goodell give Talib a long suspension, as Stroud claims?
What punishment is Talib really going to get if the only thing certain is that he ran to the aid of his sister and attacked her alleged abuser without using a gun?
Joe's just not buying Stroud's claims yet.
Talib's Dallas attorney Frank Perez told JoeBucsFan.com that he "expects to take the case to the grand jury and have it resolved there," meaning Talib would not be indicted. "We've interviewed 17 or 19 witnesses and none of them say Aqib Talib had a gun. He wasn't handling a gun," Perez said.
Joe believes the Bucs will wait on the outcome of the case and Goodell's subsequent decision before making their own call on Talib.  Mark Dominik and Raheem seem to take pride in being patient and calculating.