Could A Local Guy Be In Linebacker Mix?
April 11th, 2011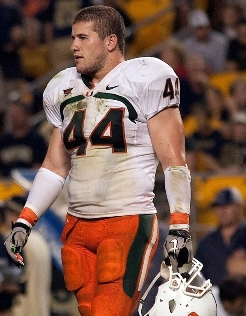 Those who are adept at using Twitter know how to find stories. It's all about following the right people.
One of those people would be, of course, Joe.
But last night while nursing an adult beverage and watching Joe's guilty pleasure, Celebrity Apprentice, Joe was also scrolling through Twitter when he came across this little nugget:
@COLINMcCARTHY44 Headed to bed. Good to be home. Working out with the Bucs tomorrow.
That would be former Clearwater Central Catholic stud Colin McCarthy, a bruising linebacker who played at the University of Miami, a three-year starter at Coral Gables in fact. McCarthy, at CCC, was a teammate of Riley Cooper, who later played wide receiver for Florida and is now with the Philadelphia Eagles.
Now Joe knows it's a stretch to say McCarthy will be with the Bucs. Who is to say whether one of the other 31 teams may draft McCarthy as well? But Joe wonders if the Bucs do draft McCarthy if he would be groomed to take over Barrett Ruud's duties? Just eyeballing McCarthy he seems to fit that mold.
How McCarthy grades out later this month in the draft is anyone's guess. Joe has seen McCarthy slotted anywhere from the third round to sixth round. Joe does remember, sadly, that while doing the radio broadcast of the Senior Bowl, heard exclusively on Sirius NFL Radio, both Pat Kirwan and Tim Ryan were not very high on McCarthy and suggested he would be a third-day pick and a career special teams guy.
If McCarthy can somehow channel what he did against Cardinal Mooney as a senior in high school, it would serve him well. It was one of the wackiest finishes Joe has ever seen in a high school game and McCarthy literally took the game over.
With three minutes to go in the game losing 17-10 and CCC's playoff life hanging by a thread, McCarthy fielded a squib kick and returned the ball 73 yards to tie the game. On the ensuing possession, he intercepted a pass and returned it deep in Mooney territory to set up a short plunge for the winning score as time ran out.
It's been a long time since the Bucs had a linebacker that could take over a game at a crucial moment.