Yahoo! Sports Columnist Lashes Out At Aqib Talib
March 30th, 2011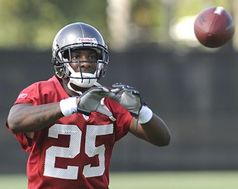 Let's be honest. When we all read here on JoeBucsFan.com Monday morning that Aqib Talib was, yet again, involved in a hassle with the cops and other folks in Texas, was anyone really surprised, did it shock anyone?
Sadly, Bucs fans have become conditioned to such nonsense since he was selected in the first round of the 2008 draft.
But a man who has known Talib longer than most Bucs fans, and likely knows Talib better than most people in Florida, not only wasn't surprised, he put fingers to keyboard and blasted Talib on Twitter in the wee hours of this morning.
Jason King of Yahoo! Sports once was a sportswriter for the Kansas City Star and his beat was covering the nearby Kansas Jayhawks, both football and basketball.
King — as best he could given the 140-word limit of Twitter — painted a jarring picture of Talib as a college athlete.
Not surprised at all by this Aqib Talib story. The single biggest dumbass I ever covered at Kansas – or anywhere, for that matter.
Wow. Since Talib was arguably the Jayhawks best player when he left the school, King likely got to know him quite well with all the stories he had to write about Talib.
Granted, not all college athletes are in to study why federal authorities seized Robert E. Lee's home, Arlington, which quickly was turned into a national cemetery (hint: because it made it hard to mow the lawn) or to debate the merits of the landmark Supreme Court decision in Cantrell v. ABC.
But, given the fact King is now a national columnist and touches base with far more athletes than he ever had in Kansas City, to suggest Talib was not the brightest light bulb of all athletes he has worked with is a damning comment.
Throwing millions (tens of millions?) of dollars away last week like Talib did certainly reinforces King's beliefs.