Shortstop Dressed As A Vibrator
October 3rd, 2010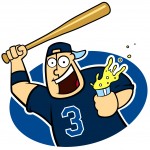 The Rays have taken it down to the wire. Win this afternoon in Kansas City and grab the AL East crown from the hated Yankees.
The Rays do own the tiebreaker with the Yanks, so if both lose today, then the Rays still get the glory. 
As for the headline here, a photo of Rays rookie hazing has emerged, which shows Reid Brignac wearing an interesting costume, as well as other young Rays.
It's all at JoeRaysFan.com, which is hands down the best Rays site online. Joe challenges you to find a more comprehensive and entertaining Rays site.