Sweet Payback For Kellen Winslow
September 13th, 2010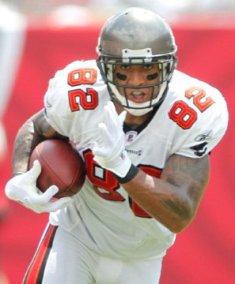 Yesterday wasn't just a season-opening game for Bucs tight end Kellen Winslow. It was also a chance to give a little payback to a team he once played for, a team that drafted him and a team Winslow has quite a bit of mixed emotions about.
Winslow wanted the Bucs to win yesterday badly. So much so he carried a Bucs flag in pregame ceremonies and waved it in front of the Browns bench. He had four catches for 32 yards and nearly made a sick catch where he skied over Browns defenders and looked as if he was picking apples, only to lose the ball when he hit the ground.
After the game, Winslow didn't deny he was fired up to win, as reported by the Associated Press.
"I have nothing against the players," the seventh-year pro said. "This is our job. So, when you get traded or demoted or anything like that, it's personal. So, you want to get some revenge and you want to play as well as you can."

Winslow spent five at times tumultuous seasons with the Browns. He had a pair of 80-catch seasons and made the Pro Bowl once in Cleveland, but couldn't shake a perception that he was a troublesome presence.

"We didn't win very much over there. When I got traded, it felt very personal. I'm in a better situation now with a coach like Raheem Morris."
Joe could even see how Winslow was emotional on the field just by his play. Joe's not suggesting anything to the contrary here, but Joe would love for someone to hypnotize Winslow into thinking he is playing the Browns each week.