Raheem's Not Vibing With The Media
September 20th, 2010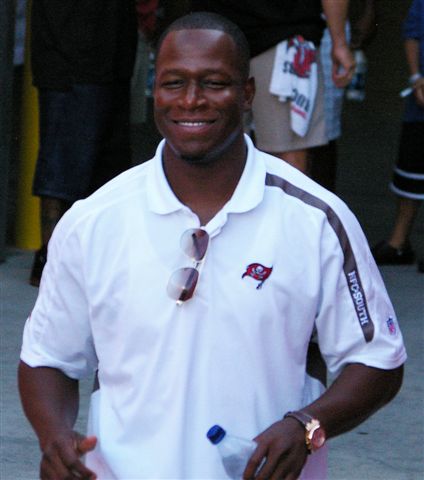 Watching all of Raheem Morris' news conferences since he got the Bucs head coaching job, it's obvious to Joe that Morris often feels that he and his team are treated unfairly by the media.
That first became apparent after Morris dared the media to write something negative about Michael Clayton following his five-catch effort in the Bucs' season-opening loss to Dallas last year. Previously, the Bucs had gotten heat for re-signing Clayton to a fat contract despite years of poor production.
Since then, Morris has dished out one-liner jabs about negative press rather consistently, and there have been the occasional direct yet playful confrontations. All of which have increased of late.
On Sunday, after the Bucs commanding victory in Carolina, Morris took it all to a new level.
He closed his news conference with body language and a demeanor that lost the the playfullness he typically diplays when knocking the media.
Here's the exchange and the video link.
Reporter: Rah, How bout if we start right here. We only got eight more to go on the race to 10.

Raheem Morris: That'd be nice. But I'm dealing with you guys, so I know you're not going to write that. You know, last year we got off to an 0-2 start, and the articles were, 'Do we have the chance to go 0-16?' So I'm expecting do-we-have-the-chance-to-go-16-0 articles this week.
That ended the session and, as Joe mentioned, Raheem's body language screamed anger. The smile was gone. The tension ran deep.
Earlier in the 7-minute news conference, Raheem fielded a question from Tampa Tribune columnist Martin Fennelly and then promptly cut off Fennelly before he could actually ask a question. Raheem stated he didn't like Fennelly's pregame column that mentioned the Bucs weren't honest about Josh Freeman's thumb injury 10 days prior.
Here's what Fennelly wrote:
By the way, turns out Freeman not taking snaps at a practice last week wasn't part of a Bucs "plan."

Did this team tell the truth about anything?

We'll know today if 1-0 was a lie, too.
In Joe's opinion, Fennelly surely wasn't harsh – didn't even call out Raheem personally. But here's the Fennelly-Morris exchange at the postgame news conference yesterday:
Martin Fennelly: Raheem, I know it was last year, but Josh threw 5 picks in this building last year (cutoff by Morris)

Raheem Morris: I know you reminded me in the paper today, Martin. You told me that I lied to you. So I don't want to lie to you today. We didn't have any turnovers, and it is what it is.
Later in the news conference, unsolicited, Raheem talked about Fennelly again, but concluded it with a smile and a wink in his direction.
Joe has heard Raheem talk about how he likes "angry workers" on his team, underestimated and highly motivated guys like Ronde Barber and others.  Now it seems like Raheem is an "angry worker" himself. Clearly, the down-on-the-Bucs rhetoric in the local and national media is under his skin, and a 2-0 record is drawing some of it out.
Maybe it's good. Maybe it's bad. As long as the Bucs are winning, it really doesn't matter.
But Joe does think it's a red flag that Morris was so visibly annoyed by what he perceives to be negative press just minutes after a victory. That tells Joe he's taking all the chatter too seriously.