Arrelious Benn Shuts Up Doubters
September 3rd, 2010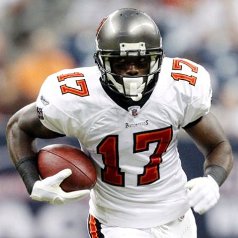 Some members of the Bucs fourth estate could be heard with loud whispers saying rookie wide receiver Arrelious Benn wasn't flashing while fellow rookie wide receiver Mike Williams was.
Some Bucs fans had already given up on the stud from Illinois. It wasn't fair. He is not Williams. Bucs general manager Mark Dominik said that from the day he was drafted.
Tonight, Benn showed why the Bucs have so much faith in him. His two touchdowns were exactly what the Bucs lack: a receiver willing to mix it up and fight with defenders.
His first touchdown, Benn wrestled away from a Houston defender to make a nice catch in the corner of the end zone. His second touchdown was pretty sweet, though not as physical.
Even Bucs coach Raheem Morris, cornered after the game, reacted with a "I told you so," type of voice, as if to suggest to those doubted Benn, "What's the matter with you?"
Benn will be fine. While he may not start for the Bucs this season, he will contribute.