Raheem Was Calling Defense Before Bates Left
August 9th, 2010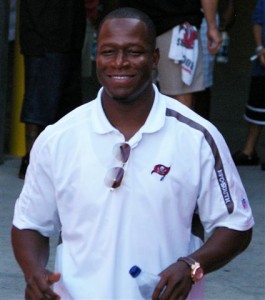 Joe has long suspected that Raheem The Dream was running the Bucs' defense before Jim Bates was kicked out of town, and now Mark Dominik has confirmed it during an interview on WDAE-AM 620.
Joe is doubtful Dominik mis-spoke during the interview, considering Raheem The Dream himself last year detailed how Bates convinced him what to call during a key moment in the Bucs' Week 10 game in Miami.
Yet Bates was fired after Week 11.
Responding to Justin Pawlowski, of WDAE-AM 620 on Saturday night, Dominik answered a request to evaluate his head coach's peformance.
Here's his reply verbatim:
Mark Dominik: Well coach Morris has done a very good job in the offseason program. And I think we saw a lot of it start by Week 10 last year when he took over the play calling.

You know, you saw a different defense, obviously, you saw a Tampa 2 defense that really got after people and was a lot more productive, a lot more aggressive and certainly we held opponents to a lower point total. I think from that point forward he really honed in on that head coaching job. I think that he really did a good job those final six weeks. What he parlayed that into is what I think is a great postseason plan.

…. We moved the offseason program, post-draft, to get all these rookies and these young players as many reps as possible. …I gotta hand it to Coach Morris and his staff and also our training staff… in terms of getting these guys through all these grueling weeks we live here in Tampa, as we know how hot these summers are, to walk out at the first day in training camp and have all 80 men suit up and go to practice. We are one of only two teams in the National Football Team, I believe, that were able to do that.

…So he's done a great job of setting it up, and getting everyone on the same page with Coach Olson being here. …I'm excited.
No question Raheem The Dream had a huge learning curve last season. The guy basically got two promotions in a matter of weeks to became one of the co-masterminds of a new Bucs regime.
Of course, he then proceeded to show he was not up to the job after quickly harpooning his hand-picked coordinators and bungling the early development of his top draft pick.
But Raheem The Dream went on to show improvement, and Dominik now explains that Raheem The Dream "really honed in on that head coaching job" after Bates was defrocked. (Of course, that implies Raheem The Dream was over his head prior to that point).
It's all old news, but many fans hang their 2010 happy hat on the Bucs' improvement coming when Morris took over the defense.
Well, now it seems he took it over a bit earlier and kept running the two-gap system, essentially trying to jam the wrong personnel into it for two more games.
This is all very interesting.